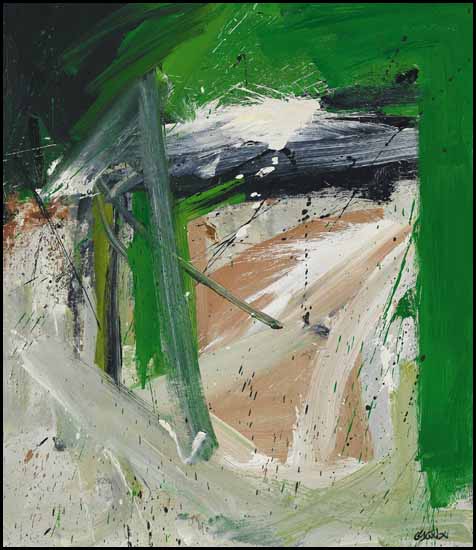 So earlier this week I attended the fall Heffel Canadian postwar and contemporary art auction, one of several fall art auctions in Canada. (Sotheby's is coming up next week, and Waddington's had theirs earlier on in the month.)

Now, people come to art in different ways. My path to art and understanding art was as a student, and now as a writer. Other people work in galleries, grow up in artsy families, have enough money to collect, or simply make stuff from a young age.

Given my path to art, this was actually the first "real" (ie. non-fundraiser) auction I had ever gone to.


I have to say that overall the auction experience was instructive, if only to hammer home a lot of angles that you don't get exposed to in art school (sometimes for good reason, sometimes not). I'm talking about stuff like, of course, the market, and the special market conditions that occur around an auction. To be painfully honest, reader, it had never really occurred to me before (despite studying helpful accounts in The $12-million Dollar Stuffed Shark and Seven Days in the Art World) just how much the competitive auction atmosphere can drive up the price of a work.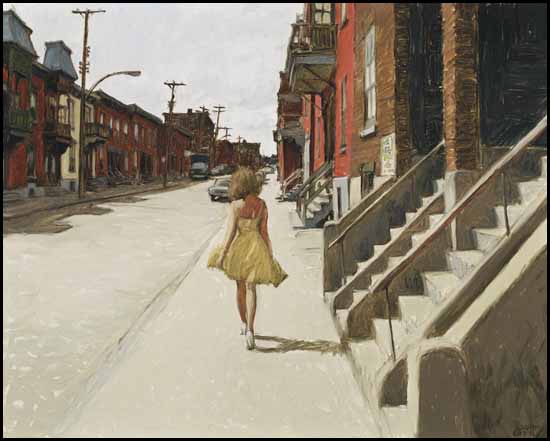 In other words, it's an apparently dumb fact that when you have people together in a room who have been primed to want the same object--be it art or antique autos or what have you--their face-to-face competitiveness (if you can nurture it) is bound to drive up the price. But seeing that actually happen in person is a pretty powerful lesson--one that was educational for me, and I'd expect for other people. (Class visit or field trip, anyone?)

Of course, in the days since the Heffel's auctions, there's been a lot of news buzz about their highest-selling work gavelled in the later-evening "fine Canadian art" auction--Lawren Harris's Old Stump, which went for $3.51 million, a million over estimate. (The Globe reported Toronto collector/art advisor Ash Prakash as the bidder, possibly acting on behalf of collector David Thomson.)

Still, on a smaller scale, and firsthand, there were some interesting underreported bidding results in the contemporary section as well--Charles Gagnon's Intersection 1963 was originally estimated at $20,000 to $30,000, and ended up tripling that to $90,000, a new record for Gagnon. Also popular was John Geoffrey Caruthers Little's Une journée d'éte, avenue Coloniale, vers Duluth, Montreal 1978, which was estimated at $15,000 to $20,000 and sold for $47,500, also a new artist record. Finally, Mashel Alexander Teitelbaum (that's AGO head Matthew Teitelbaum's late dad) also had a surprising result, with an untitled canvas from 1955 quadrupling its $5,000 top estimate to a $20,000 sale, also a new record.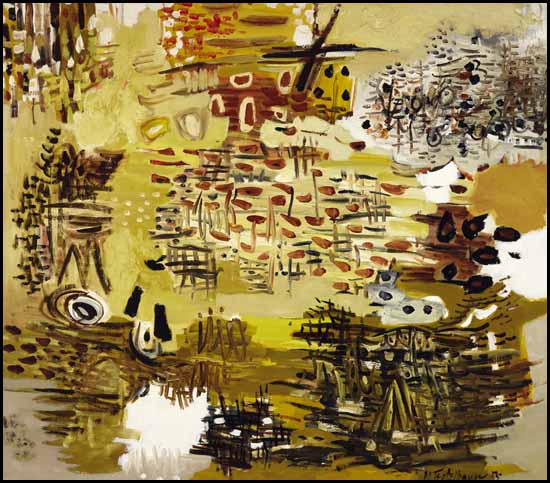 Of course, there's a lot that's depressing that can be taken away from these events—that your art might get more valuable (or be recognized) only after you die; that the Canadian art market still values the Group of Seven in a fetishized, unrelenting manner; that the recession still affecting millions of Canadians appears a moot point to the ultrarich; that the yearly salary of most Canucks (or the annual budget of an artist run centre!) is a but a trifling purchase pittance to our upper echelons. There's also more banal questions--who was trying to unload a ton of Dallaires here, and why? Still, I'm glad I went, and I look forward to learning more about this influential auction facet of the art world in the years to come.

Images from top: Charles Gagnon Intersection 1963, Lawren Harris The Old Stump 1926, John Geoffrey Caruthers Little Une journée d'éte, avenue Coloniale, vers Duluth, Montreal 1978, Mashel Alexander Teitelbaum Untitled 1955 - All from Heffel.com, except the Harris, which is from the CBC