My sister gave birth a couple of days ago. So that's probably why this piece, Ron Mueck's Mother and Child, struck me with particular force when I was editing some photographs at one of my jobs today. It got me thinking about other pieces on birth and motherhood—a pretty inexhaustible genre, rilly. Art Fag City did a great job of surveying baby-related art earlier this year, and I'm sure Regina Hackett has made it the topic of one of her many themed posts at some point. So I'm not going to reinvent the wheel--just mention a few works that come to mind.
Louise Bourgeois's Maman, however sinister, pops into my head:


As does, in that difficult vein, Sally Mann...


and (yikes! and ha! on this pic) Tierney Gearon:


Nicholas Nixon's family pictures are difficult to pull into a blog. Here's a couple, small, but I recommend perusing the assortment available at Fraenkel Gallery's site.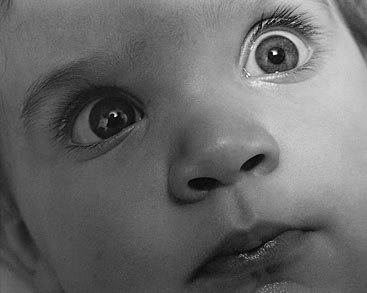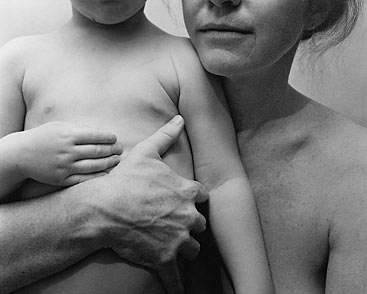 Mary Kelly's Post-Partum Document is another inescapable link-to:


Adam Fuss's baby photograms as well:


I know lots is missing here. Any other suggestions for works on this theme are welcome.

Image of Ron Mueck's Mother and Child from the BBC; Image of Sally Mann's Emmett, Jessie, and Virginia from Art21; Gearon image from Mothers of Invention; Image of Nicholas Nixon's Clementine, Cambridge, 1986 and Cambridge, 1985, from Collection Frac Lorraine; Mary Kelly Post Partum Document detail from Xtra; Adam Fuss's Untitled 1994 from Tufts