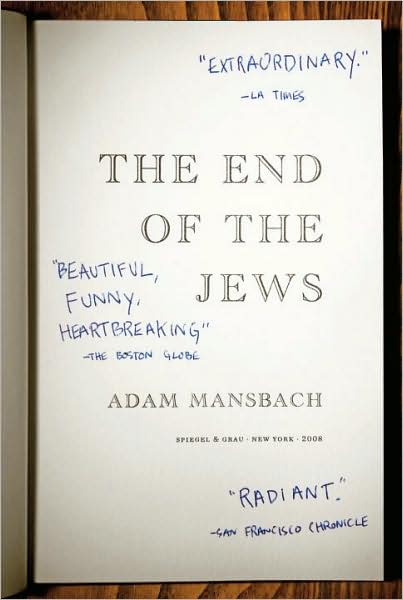 As was likely indicated by my previous shout out to Believing is Seeing, I've been trying to bone up on art-related reading. And though I didn't expect a fiction paperback to illuminate on this topic, one recently has. It's The End of the Jews by Adam Mansbach. What the book does is follow interactions between a few artists/writers and their families. And though Mansbach summons a lot of issues--Jewish history, white-boy hip-hop, and the fall of the Iron Curtain being just a few--what rises to the surface are questions and observations about the ways writers and artists appropriate from other individuals and other cultures.

To be truthful, part of what drew me to read this book was a smirking attitude, as in "Yay, it's not just art critics who are parasitic! It's artists themselves!" But ultimately Mansbach's book is much more complex than that, with well-drawn characters who I wanted to keep reading about in spite of (or perhaps because of) all their terrible, awkward, inappropriate impulses.

Now that I'm on the topic of fiction on artists, I should say that I also recommend The Great Man by Kate Christensen, a less epic novel than Mansbach's but just as sharp. The Great Man follows two biographers as they compete to write the definitive biography of a supposedly great artist. Along the way, truths come to light about who really painted or inspired some of the "Great Man's" defining works.

If anyone else has suggestions for fiction that can tell the truth about art, I'm all ears.